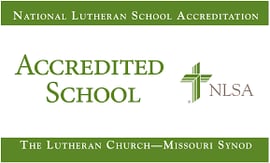 Faith Lutheran School is accredited through National Lutheran School Accreditation (NLSA), St. Louis, MO. All standards, self-study, and annual reports are available in the school office.
Why is accreditation important?
1. Accreditation assures our school community that Faith Lutheran School's purposes are appropriate and being accomplished through a viable educational program; it's one way we validate the integrity of a Lutheran education.
2. It contributes to the improvement of our programs, services and operations. Through an ongoing means of self-assessment it helps us manage change through:
Assessment

Planning

Implementing

Monitoring
Reassessment
During this process, Faith Lutheran School is visited by a team of fellow educators, both public and private, to corroborate our work and give us insights and perspectives. This has been valuable over the years.
Finally, graduating from an accredited school ensures families and students that our course of study has been approved for entrance into both public and private high schools.